UNISON SDMC is on Facebook and Twitter. Like and follow them.
The Scottish Disabled Members Committee (SDMC) is a self organised group consisting entirely of disabled members who campaign on behalf of our disabled members to ensure that disability issues are given a voice within UNISON …read more. See also the UNISON UK Disabled Members site here.
This website uses PDF files.To read Acrobat PDF files you need Acrobat Reader software, which is available free of charge from the Adobe website in both PC and Mac format.
PDF accessibility: To read PDFs with a screen reader please link to the Adobe Accessibility website which provides useful tools and resources.

Access All Areas in Scotland - Issue 3 of UNISON Scotland's Disabled Members Newsletter - UNISON Scotland Disabled Members take ...
Read More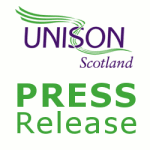 Date: Wednesday 6 November 2013 A 'speak-out' survey of community, voluntary and housing workers has exposed services to the most ...
Read More
More on the archived UNISON Scotland website