This page is where we will add our campaign resources leaflets (A5), posters (A3 & A4), and resources for Twitter and Facebook.
Resources for printing will be in full colour (purple) or in a white version – which is easier for office printers as you do not have to use so much colour ink.
All resources and materials will be added to this page.
Frequently asked questions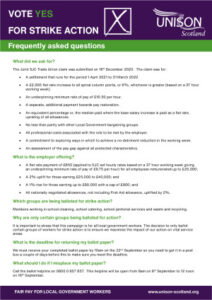 A5 leaflets for local government pay ballot 2021 (purple)
A5 leaflets for local government pay ballot 2021 (white)
A4 posters for local government pay ballot 2021 (Purple)
A4 posters for local government pay ballot 2021 (White)
A3 posters for local government pay ballot 2021 (Purple)
A3 posters for local government pay ballot 2021 (White)
Social Media: Twitter card for local government pay ballot 2021
Social Media: Facebook for local government pay ballot 2021