Time remaining to get your ballot in:
UNISON, Scotland's largest local government union, is balloting its members in a dispute over pay.
The ballot opened on 10 June. For you vote to count we must receive it by 10am Tuesday 26 July.
The union is planning targeted strike action – this means select groups of workers will be balloted.
UNISON is campaigning for a pay rise for ALL local government workers.
The groups that will be balloted for strike action are members employed working in schools, who provide services to the running and operation of the school, and all members working in early years and in waste and recycling services. The union is recommending that vote 'YES' in favour of strike action.
Why are we balloting?
Having consistently worked above and beyond to keep our key services going over the past two years of the pandemic, and with the cost of living spiralling, COSLA's offer of a 2 per cent pay increase for local government workers is nothing short of an insult.
While politicians have raced to praise your efforts their warm words have not been matched by action.
Earlier this year we ran an online consultation to see what you and other local government members thought of the employers' 2022 pay offer. It was no surprise that the overwhelming majority of you voted to reject the offer and indicated your willingness to take action to achieve a better deal.
Nothing has changed since then and we now need you to vote YES to take strike action to remind your employers exactly how you feel.
This offer is derisory. It is less than the Scottish Public Sector Pay policy, falls far short of our pay claim and is significantly below current levels of inflation. It will exacerbate the gap between those on the lowest and those on the highest rates of pay. And it is in sharp contrast to the 5.2% increase that councillors themselves have just received from 1st April 2022.
You are worth so much more.
Your vote is vital. The employers aren't going to rethink unless we stand firm together. Vote YES to strike action to remind your employers that you deserve better.
Message from Christina, UNISON UK General Secretary
What do I do now? Make your vote count!
Don't forget to post your ballot paper back in good time so we receive it before the ballot closes at 10am on 26 July. If you need a replacement ballot paper please call our helpline on 0800 0 857857. The helpline will be open from 8am on 15 June until 12 noon on 20 July.
Do you know where your nearest post box is?
Find it on this fantastic Post Office website :)
Not a member yet?
UNISON is leading the fight to get you a decent pay rise. If you have colleagues who are not already members of UNISON please encourage them to join us at joinunison.org or call 0800 171 2194.
More information on the local government pay offer
You can read COSLA's full offer letter 

here

.

You can read a full copy of the pay claim submitted by the joint trade unions: 

here

.

You can read the trade unions letter to First Minister Nicola Sturgeon and Finance Secretary Kate Forbes here.
RESOURCES
A3 social media card for photos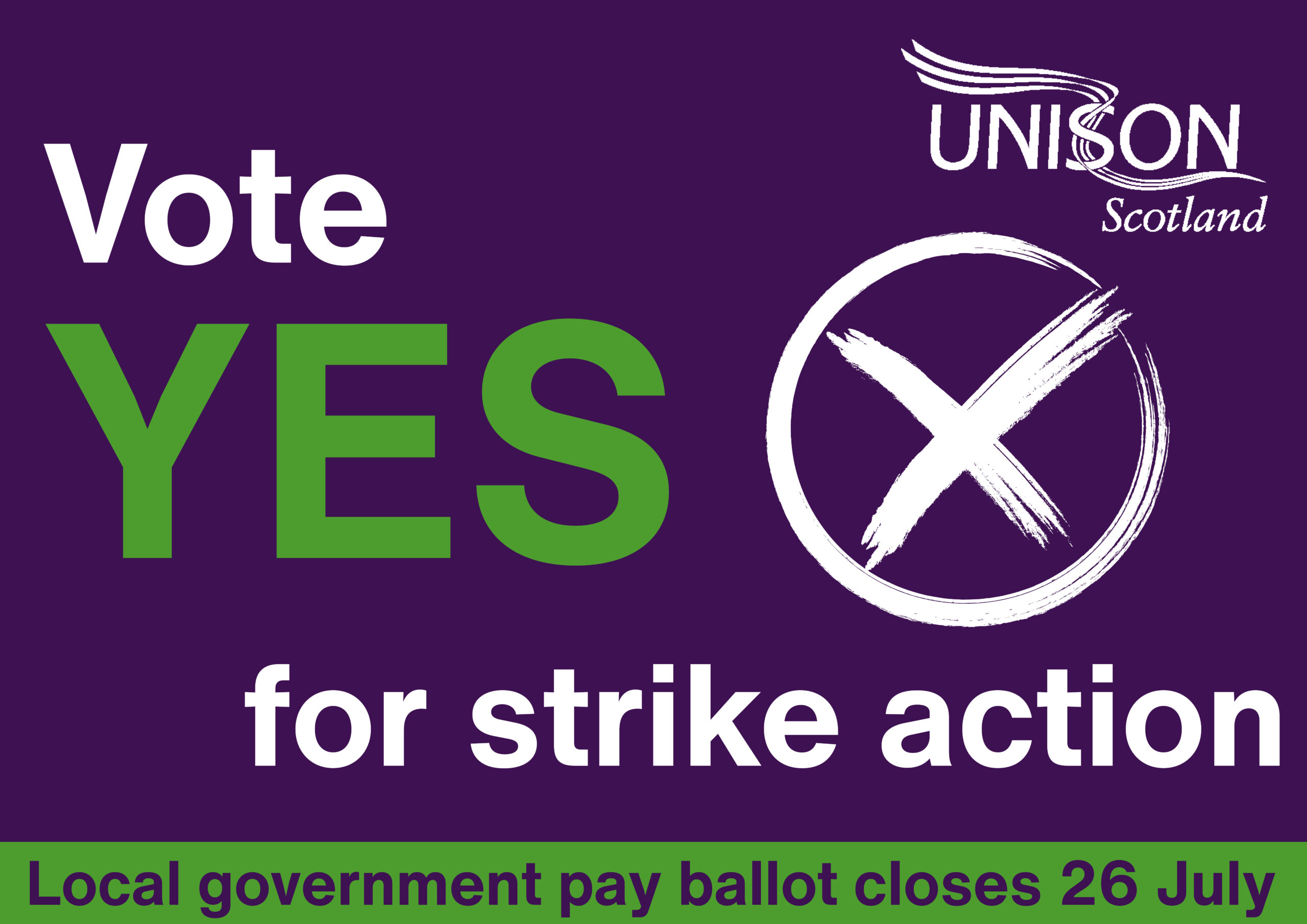 Website Headers

Posters / flyers
A3 size
A4 size
A5 size
[Colours will look different online, but will print correctly]
Frequently Asked Questions
Facebook, Instagram, Twitter
MEDIA RELEASE:
Strikes will shut schools and nurseries
6 June 2022
UNISON, Scotland's largest union, has today warned that strikes will see school closures and waste piling up on the streets
UNISON has demanded a meeting with, and immediate action from, the First Minister Nicola Sturgeon and the Finance Secretary Kate Forbes over the local government pay dispute.
Last week the union served notice to 31 Scottish local authorities and Tayside Contracts. The union is taking targeted strike action, which means select groups of workers will be balloted. These groups include those working in schools and nurseries as well in waste and recycling services.
The ballots will open from 10 June and close on 26 July. If the ballots for industrial action are successful then strike action could begin in August, disrupting the beginning of the new school term.
In a letter to both Scottish Government ministers, UNISON – a long with the joint trade unions – is warning that if the pay dispute is not swiftly resolved then strike action will "close schools across the country and see waste piling up on the streets."
COSLA, the umbrella body representing council employers, has offered staff a 2% increase, but the union points out with inflation at a 40-year high and topping 11%, this represents a real-terms pay cut.
UNISON's consultative ballot in April revealed almost nine in ten workers are in favour of taking action, with 89.8% voting in favour of taking industrial action up to and including strike action.
Councils can avoid months of disruption to schools, and waste and recycling services, by improving the offer and giving workers the proper pay rise they deserve, UNISON says.
UNISON head of local government Johanna Baxter said: "People seem to have forgotten who kept our country going during the past few years – these workers are the ones who kept childcare hubs open so other key workers could get to work, they cared for our most vulnerable and buried our dead. They went gone above and beyond in service to our communities and deserve to be paid fairly.

"With over half of local government workers earning below £25k each year, low pay remains a significant issue that is seeing councils struggling to recruit into key service areas. As everyday living costs continue to rise, these workers are struggling financially to make ends meet.

"Not only do these dedicated local government workers deserve way better than a below-inflation pay offer, but there's a service requirement to provide one if councils are to recruit and retain staff in key service areas."

Chair of UNISON Scotland's local government committee Mark Ferguson said: "It's no wonder our local government workers feel undervalued. After years of declining pay and cuts to local government budgets, it's time for COSLA and the Scottish Government to get round the table to ensure sufficient funding is available to give our local government workers the fair and decent pay rise they deserve."