Local Government is UNISON Scotland's biggest service group. Its remit covers a range of employees including those of all of Scotland's councils, Direct Labour and Direct Service Organisations, Trusts, Joint Boards, voluntary and related organisations and private companies.
For information on our pay campaign, industrial action and ballot – got to our campaigns page
LOCAL GOVERNMENT ON FACEBOOK
Catch up with the latest updates at Fighting for Scottish Council Workers
Latest updates
More Local Government News
Latest local government briefings
KEY POINTS: These regulations implement the Scottish Government's plans for health and social care integration They prescribe what information must ...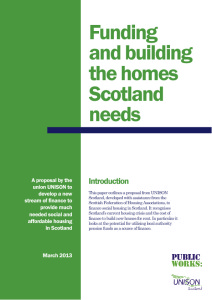 Funding And Building The Homes Scotland Needs - Mar 2013 A proposal by the union UNISON to develop a new stream of finance ...
More on briefings page

Latest responses and submissions
More on responses page