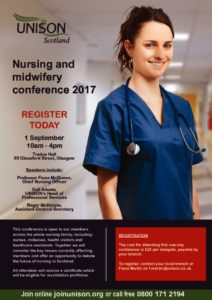 REGISTER TODAY – September 1, 2017, from 10am-4pm
This conference is open to our members across the whole nursing family, including: nurses, midwives, health visitors and healthcare assistants. Together we will consider the key issues currently affecting members and offer an opportunity to debate the future of nursing in Scotland.
Speakers include:
*  Professor Fiona McQueen, Chief Nursing Officer
*  Gail Adams, UNISON's Head of Professional Services
*  Rodger McKenzie, UNISON's Assistant General Secretary
All attendees will receive a certificate which will be eligible for revalidation portfolios.
The cost for attending this one-day conference is £25 per delegate, payable by your branch.
To register, contact your local branch or Fiona Martin on f.martin@unison.co.uk