For years now public service workers have seen their pay held back by government in the name of austerity. First a freeze then a cap, resulting in public sector pay, across the UK, rising by just 4.4% between 2010 and 2016 while the cost of living rose by 22%.
That's no way to treat hardworking people who play such a vital role in looking after us and holding our communities together – keeping us safe, healthy, educated, and cared for.
Governments, both in Scotland and UK, are now under real pressure to scrap the 1% cap on public sector wages and UNISON is leading the fight to get you the pay rise you deserve.
And more and more people are listening and supporting our Pay Up Now! campaign.
Now it's up to us, in UNISON, to keep that pressure on until we get:
an end to the pay cap
government money made available for an immediate pay rise for all public sector workers
an end to government interference in bargaining arrangements for all public sector pay.
We can't miss this opportunity. They won't pay up if we don't speak up. So, please get involved in our campaign and help us win by keeping the pressure on to scrap the cap.
Click here for photos and videos from the October march and rally
Previous news
March & Rally, Saturday 7 October, Final Details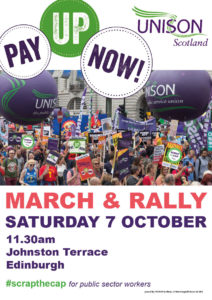 Join us, for UNISON PAY UP NOW! and Scrap the Cap march & rally, on Saturday 7 October 2017.
We are expecting thousands of members, supporters, friends and family from across Scotland, so please get along if you can.
Assemble at 11am (not 11.30), Johnston Terrace, Edinburgh. The police have requested we bring forward assemble time half an hour to 11am as the march has to set off at exactly 11.45am.
Safety on the day:  Tom Waterson is police liaison 07753 627575
Media:  Danny Phillips 07944 664110. Dave Prentis, UNISON general secretary will be available for interviews
Social media hashtags: #scrapthecap, if you can't make the march posting photos and messages of support.
Local transport: contact your branch for all questions about travel to Edinburgh. And check local branch websites.
First come first served: there will be a free breakfast roll at the start, on Johnston Terrace. And again first come first served, free tickets for family fun day at dynamic earth and wristbands for a free lunch will also be available from Johnston Terrace (Limited supplies).
Lastly, if you want to help carry balloons, flags, banners or placards make yourself known to organisers and we can help. We will also have supply of UNISON tabards and kagools (lets hope we dont need them)
Look forward to seeing you on Saturday.
March & Rally, 7 October, Edinburgh
Posters to publicise the Pay Up Now! March and Rally in Edinburgh on 7 October.
PAY UP NOW! leaflet and poster
More reources can be found on the UK UNISON website  Pay Up Now! campaign page. Scroll down and click on Resources. Below is a leaflet and poster for Scotland.
SCOTTISH GOVERNMENT PAY POLICY – UNISON RESPONSE