UNISON Scottish Water Branch
UNISON is the largest trade union in the Scottish Water Industry. Our members belonging to the Scottish Water Branch work in Scottish Water offices and depots throughout Scotland. They are represented in all the functions of the authority, including water and sewage treatment, water and sewer networks, laboratories, call centres and the design and construction of capital works.
The Scottish Water Branch is organised into sections representing members in the main operational areas. The branch sends representatives to the Scottish Water Service Group, which is responsible for representing members within UNISON structures, agreeing policy and managing external relations.
Latest news

Latest documents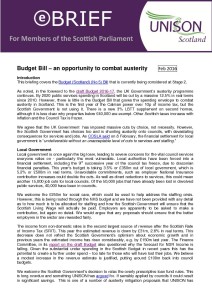 MSPe-briefing - Scottish Budget - Feb 2016 Budget Bill – an opportunity to combat austerity Feb 2016 Introduction This briefing ...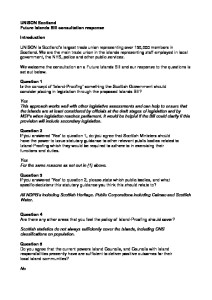 UNISON Scotland - Future Islands Bill consultation - response to Scottish Government conultation December 2015 full text of response FutureIslandsBill_UNISONresponsetoScotGovtconsultation_Dec15 Introduction ...