"Scottish Water ignoring consultation rules over HQ closure" say TU's
Scottish Water are treating their workforce with contempt and are breaching not only their own procedures but also the Scottish Government's fair work guidelines.
Unions at the publicly owned company have taken the unusual step of writing directly to the publicly owned company's chief executive, Douglas Millican, demanding that a recent decision to close Scottish water's HQ be reviewed.   If this isn't done unions in Scottish water will take the matter to the Cabinet Secretary responsible Michael Matheson.
Scottish Water's board have taken the decision to close Castle House in Dunfermline, the headquarters of the publicly owned company.  This decision will impact on over 250 staff members.  Despite this management at Scottish water refused to negotiate or consult with the staff unions, or even give honest answers to questions.
In their letter the joint unions demand a review of the decision and call  on him to ensure that managers adhere to the recognition agreements they have signed with unions.
UNISON Branch Secretary Tricia Mcarthur said
" Scottish Water are treating staff with contempt. We are in a situation where the closure of our HQ – a decision that severely impacts on hundreds of staff. Wasn't subject to consultation or negotiation, we couldn't even get truthful answers to what was happening.
Scottish Water needs an urgent change of management culture – the board are charged with overseeing a public service in the 21st century, they can't continue to behave like Victorian mill owners. If change isn't forthcoming we will be asking Cabinet Secretary Michael Matheson why he is content with such flagrant breaches of the values he maintains his government say they care about."
Notes for Editors
Letter from Joint TU's to Scottish executive Douglas Millican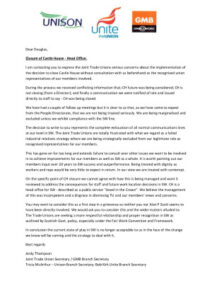 Signatories to the letter are all three of Scottish Water's unions – UNISON, GMB & Unite.