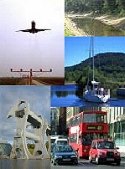 UNISON transport members in Scotland work for a range of transport organisations, including passenger transport authorities, bus companies, British Waterways, harbour companies and some local airports. Their jobs include professional, managerial, administrative, clerical manual and engineering roles.
In addition to members covered by the Transport Service Group UNISON has many members in local government who support Scotland's transport infrastructure including planners, engineers, local and trunk roads staff.
Latest news

NOTE TO PICTURE DESKS: Photocall 12.30pm Monday. Details below. Trade unions are today (Monday 18 April) calling for strong action ...
Read More
Date: Fri 17 May 2013 UNISON Scotland response to Accounts Commission report on audit update on roads maintenance: UNISON said ...
Read More
More Transport News
Latest documents