Latest pay news
NHS PAY UPDATE! Following UNISON members voting to reject the current NHS pay offer, our negotiators and other trade unions ...
Read More
More than 50,000 health workers will today (Monday) begin to vote in a strike ballot as the pay dispute continues.  ...
Read More
Campaign news
Click here for photos and videos from the October march and rally
UNISON has launched a summer of campaign activity calling on the Scottish government to scrap the cap on NHS pay rises, which will include the union and members lobbying Scottish Government Ministers on pay as they carry out their annual round of NHS Board Reviews.
UNISON branches and members across Scotland will be using the summer and autumn to secure a fair deal for NHS workers.
We are the NHS union. We represent almost 60,000 NHS workers across Scotland. And we have been critical of governments and the Independent Pay Review Body after a series of below inflation pay rises awarded to NHS workers across the UK.
The UK government's continued austerity has lead to another real terms cut in the pay of NHS workers. Too many politicians are always happy to praise the work of our loyal and dedicated NHS staff, yet they refuse to deliver a fair deal on pay.
UNISON welcome the Scottish government's recognition that the pay cap is hurting NHS workers and cannot continue. However, it is now time for that recognition to be turned into positive action.
UNISON NHS PAY CLAIM 

Following the success of the 'Scrap the Cap' march on 7 Nov when 5000 UNISON members marched in Edinburgh the union has now lodged a pay claim for NHS workers with the Scottish Government. UNISON is the only union in Scotland to take this step.
The claim is the first of its kind in a generation and seeks to roll back the impact of pay cuts for all NHS workers.
RPI or 3.9% pay rise across the NHS
Plus £800 to start to recoup the losses of a decade
Living wage for healthcare students
Improve NHS pay Structure
Realign pay bands for better career progression
You can read the full NHS pay press release here
TWENTY THOUSAND CHRISTMAS CARDS CAMPAIGN
UNISON welcomes political commitments to 'Scrap the Cap' in the NHS and is now campaigning to secure a fair pay deal for UNISON members in the NHS.
Working within UNISON's 'Pay Up Now!' campaign, health branches and activists across Scotland have launched a bold campaign to gather 20,000 signed christmas cards which the union will send to constituency MSP's in December.
The campaign is open to everyone who believes that the Government should pay up for health pay and supports the UNISON pay claim.
Tom Waterson, chair of UNISON Scotland's health committee said,"Whilst UNISON members are pleased that the Scottish Government have committed to 'Scrap the Cap' they will not rest until there is a fair and balanced pay settlement which starts to roll back on the cuts to their wages. UNISON won't be resting on the basis of political commitments to end the pay cap, we will be working hard to secure a fair offer for members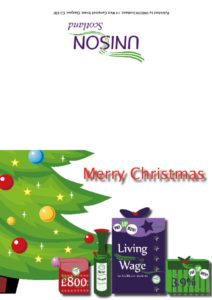 SCRAP THE CAP CAMPAIGN DATES AROUND SCOTLAND:
3 July NHS Ayrshire and Arran
6 July NHS Fife
20 July NHS Border for Pay Review Board evidence gathering session
21 August NHS Shetland
31 August NHS Highland
8 September NHS Lanarkshire
29 September NHS Lothian
2 October NHS Greater Glasgow and Clyde
16 October NHS Tayside
CAMPAIGN BRIEFINGS:
CAMPAIGN RESOURCES: