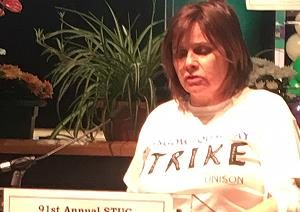 #stucwomen18 Dementia disproportionately affects women and the STUC Women's Committee will work with the other Equalities Committees to raise awareness of dementia and to campaign for better services and easier access to welfare and benefits for those affected by dementia.
Conference overwhelmingly backed a UNISON motion moved by Jean Kilpatrick setting out a range of measures to deal with a growing problem.
It called for improved guidance for affiliates on supporting members with dementia, or those caring for family members with dementia, in the workplace.
Jean told delegates that 65% of people with dementia in Scotland are women and most unpaid dementia carers are women.
"The Equality Act 2010 requires employers to avoid discrimination and make personal adjustments to ensure people with dementia are not disadvantaged in the workplace", said Jean, calling for more training and the raising of awareness in the workplace.
More information can be found at https://www.facebook.com/STUCWomen/
And the STUC website http://www.stuc.org.uk/about/equalities/women