International Committee launches 'Time to Divest' campaign to stop council pension funds investing in corporations are increasingly directly involved or complicit in Israel's illegal occupation, in the torture, oppression and dispossession of Palestinians.
Each council in Scotland is allocated to one of the 11 pension fund administrators. Click here for a list of the allocation of councils to pension funds and the contact details for each pension fund.
Each pension fund has a committee and a board. The committee is a formal committee of the administering council and has the ultimate decision making power over the fund.
The board is made up of employer representatives from other employers in the scheme and crucially pension fund member representatives – usually union reps such as James Corry and Stephen Kelly on behalf of UNISON in the Strathclyde Pension Fund. The board is more a consultative forum.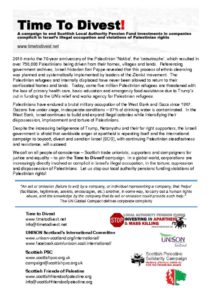 What we are asking you to do:
1. We are asking every branch to send a letter to the chairs of the pension fund committee, the board and Leader of the Council for your area calling on the fund to divest from a target company that is complicit in supporting Israel's illegal occupation of Palestine.
Model letters are here. It is important you send the model letter for the relevant fund as different companies are being targeted in different funds. For local government branches it is clear who you should write to. For other branches we would ask that you target the fund where your branch office or correspondence address is based.
Wherever possible please alert UNISON and other union representatives on the relevant pension board that you have sent the attached model letters. These will be emailed out to branches along with the Time to Divest publication we are launching at Scottish Council today.
If you can personalise the letter and put it on branch headed paper then great, if not cut and paste the attached.
2. Please encourage members and their families to join the campaign too. Individuals should be given the Time to Divest pamphlet and directed to the www.coordin8.org.uk website which makes it really easy for people to contact their own councillors.
Please keep us posted on how you get on.
In time we will ask you to write further letters focussing on different companies and we hope to roll out the campaign to other pension funds such as those in higher education.
Many, many thanks.