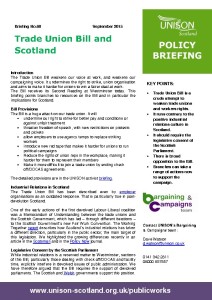 b068_PolicyBrief_TradeUnionBill+Scotland_Sep2015 PDF
KEY POINTS:
The Trade Union Bill is a crude attempt to weaken trade unions and workers rights.
It runs contrary to the positive industrial relations culture in Scotland.
It should require the legislative consent of the Scottish Parliament.
There is broad opposition to the Bill.
Branches can take a range of actions now to support the campaign.