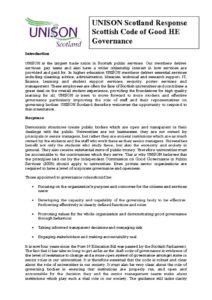 Democratic structures create public bodies which are open and transparent in their dealings with the public. Universities are not businesses, they are not owned by principals or senior managers, but rather they are societal institutions which are as much owned by the students and the staff who work there as their senior managers. Universities benefit not only the students who study there, but also the economy and society in general. They also receive substantial sums of public money. Therefore universities must be accountable to the communities which they serve.
It is now four years since the Post-16 Education Bill was passed by the Scottish Parliament. The fact that it has take so long to get as far as the draft code of governance is evidence of the level of resistance to change and a more open system of governance among some in senior roles in our universities. It is therefore essential that the code is robust and clear about the role of universities in our society.It must also be very clear about the role of governing bodies in ensuring that institutions are properly run, and open and accountable for the decision they and the senior management teams make about institutions which play such a vital role in our society. The guidance still lacks clarity about who or what organisation the boards can be held accountable by.
What is the role of the Scottish funding council or indeed Scottish ministers?
What happens if the boards are not working effectively or fail to follow the guidance?
UNISON is therefore keen to get an effective code in place.