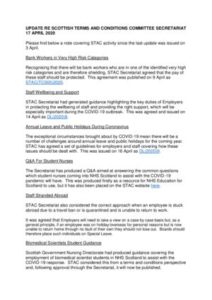 Health staff: This note contains all this week's STAC updates.  There is also a brief Q and A regarding part-time workers and those stuck abroad. The updates cover:
Bank Workers in Very High Risk Categories
Staff Wellbeing and Support
Annual Leave and Public Holidays During Coronavirus
Q&A For Student Nurses .
Staff Stranded Abroad
Biomedical Scientists Student Guidance
Staff for Care Homes
The STAC Coronavirus page remains to best place to find up to date information on terms and conditions for health staff.