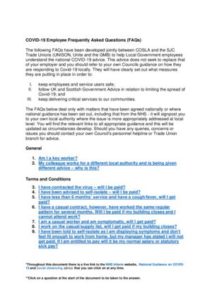 LOCAL GOVT WORKERS: This Frequently Asked Questions (FAQ) has been developed jointly between COSLA and the SJC Trade Unions (UNISON, Unite and the GMB) to help Local Government employees understand the national COVID-19 advice.
This advice does not replace that of your employer and you should refer to your own Councils guidance on how they are responding to Covid-19 locally.
They will have clearly set out what measures they are putting in place in order to:  keep employees and service users safe; follow UK and Scottish Government Advice in relation to limiting the spread of Covid-19; and keep delivering critical services to our communities.
These FAQs deal only with matters that have been agreed nationally or where national guidance has been set out, including that from the NHS – it will signpost you to your own local authority where the issue is more appropriately addressed at local level. You will find the relevant links to all appropriate guidance and this will be updated as circumstances develop. Should you have any queries, concerns or issues you should contact your own Council's personnel helpline or Trade Union branch for advice.