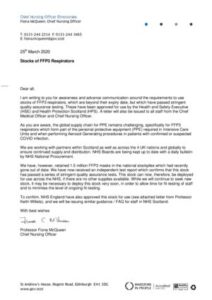 HEALTH STAFF: This letter from the Chief Nursing Officer gives an update on Personal Protective Equipment (PPE) specifically FFP3 respirators.
Work is continues to source supplies of the FFP3 respirators.  A stock of 1.5 million FFP3 masks in the national stockpiles which had recently gone out of date have now passed a series of stringent quality assurance tests. This stock can now, therefore, be deployed for use across the NHS if there are no other supplies available.
Guidance for the NHS in England in Wales has been published. Similar guidance for Scotland will be available soon and we will update this site when it's available.