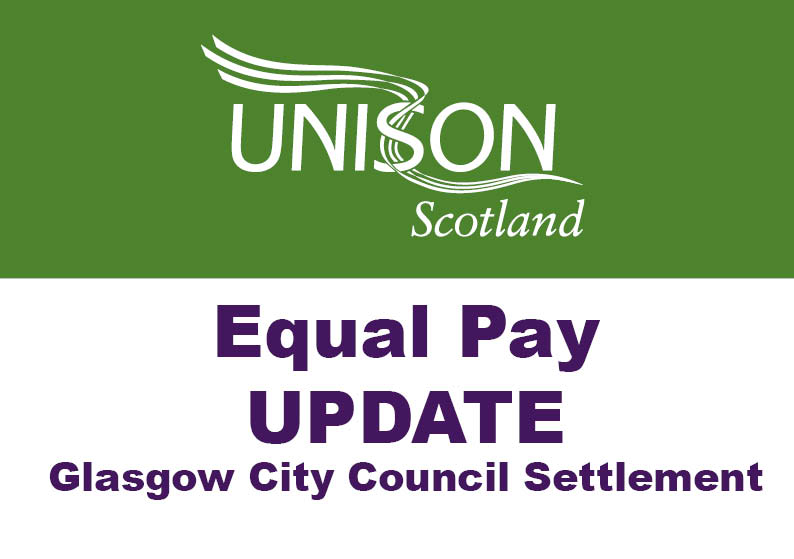 We can now confirm that the UNISON legal team aim to start posting offers from the Council on Thursday May 23rd.
The offers will include a pack with all the information claimants need.
Please do not phone to ask if you are getting an offer or how much your offer will be. We won't be able to tell you.
Glasgow City UNISON will be holding drop-in sessions for claimants who need help to complete their forms on:
            Tuesday, 28th May 11am to 5pm
            Wednesday, 29th May 11am to 7pm
            Friday, 31st May 11am to 4pm
There will also be information events at the Royal Concert Hall on:
            Wednesday 22nd May at 3pm, and
            Tuesday 28th May at 6pm
You can also find answers to Frequently Asked Questions here or you can email questions that are not answered there to e@unison.co.uk
Before emailing any question, please bear in mind that we cannot answer questions about:
the confidential method the Council have used to calculate your offer; or
why your offer is different from someone else's; or
why your offer can't go back more than 5 years from your earliest claim (it's the law).
One final point, if you must phone, please be patient with our hard working staff. They've been working round the clock for months to get the offer to you. If there's a real problem with your claim, they didn't cause it- but they can usually help fix it. If you're angry or frustrated, shouting at our staff won't help. Treat them with the dignity and respect they deserve. Explaining the issue clearly and calmly is always the best way to get results.
Action 4 Equality Scotland video
This is a very helpful video produced by A4E.
PLEASE NOTE: if you are an UNISON member and your claim is with Morton Fraser and you have a further enquiry please email: e@unison.co.uk NOT the email at the end of this video.
https://www.youtube.com/watch?v=4smyrrFIKz8&fbclid=IwAR0adeFoPkiLzGd3jm9yrQDsScE3odH6-oI19fS0wNTNI8nDvh-RyaUXTUg