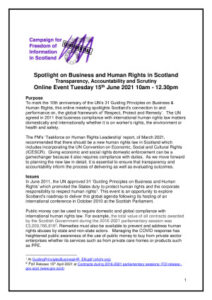 A free online human rights event on Tuesday 15 June will shine a light on promoting transparency and accountability about how public money is spent.
The Campaign for Freedom of Information in Scotland is organising the 'Spotlight on Business and Human Rights' event, open to all.
It marks the 10th anniversary of the UN's 31 Guiding Principles on Business and Human Rights.
The UN agreed in 2011 that business compliance with international human rights law matters domestically and internationally, whether on workers' rights, the environment or health and safety.
The First Minister's 'Taskforce on Human Rights Leadership' report, of March 2021, recommended that there should be a new human rights law in Scotland which includes incorporating the UN Convention on Economic, Social and Cultural Rights (ICESCR).
Giving economic and social rights domestic enforcement can be a gamechanger because it also requires compliance with duties.  As we move forward to planning the new law in detail, it is essential to ensure that transparency and accountability inform the process of delivering as well as evaluating outcomes.
Managing the COVID response has heightened public awareness of the use of public money to buy from private sector enterprises whether its services such as from private care homes or products such as PPE.
For full details, click on the leaflet above. Register free via Eventbrite here 
UNISON is supporting the event, reflecting our commitment to a strong human rights culture within which a rights based approach underpins the fair, equal and transparent delivery of all public services.
Event Details 
Chaired by Peter Hunter, Head of Organising, UNISON Scotland. Confirmed speakers include:
Transparency, Accountability and Scrutiny – Setting the Scene in Scotland Carole Ewart, Convener of the Campaign for Freedom of Information in Scotland
United Nations Convention against Corruption (UNCAC) and an update on first-ever UN General Assembly Special Session against Corruption Mathias Huter Director of the global civil society network for the implementation and monitoring of the UN Convention against Corruption
Unsafe for Scrutiny Susan Coughtrie, Project Director at the Foreign Policy Centre
Failure to Prevent Law Gemma Freedman, International Officer from UNISON
There will be opportunities for questions and discussion and the event will agree 'Next Steps'.  For more information contact info@cfois.scot