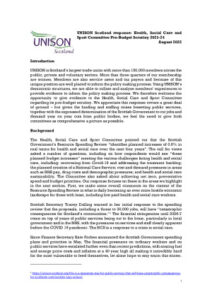 This is the UNISON Scotland response to the Scottish Parliament's Health, Social Care and Sport Committee's Call for Views as part of its Pre-Budget Scrutiny.
UNISON's priority areas of focus in this response are:
the cost of living crisis – in particular with regard to public service pay and political choices now to protect and improve public services
the National Care Service (Scotland) Bill – we will make some key points here, in particular how the plan to take out up to 75,000 jobs from local government adds to the aforementioned threat to jobs and has a massive impact on the very future of local government – an existential threat, with attendant local democratic accountability implications; we also highlight the urgent need to set up sectoral collective bargaining for social care
cost pressures on health and social care
Spending priorities and political choices – including preventative spending – and some ideas for doing things differently
(See also our other responses, including to consultations specific to the NCS.)
Finance Secretary Kate Forbes said in her Resource Spending Review introduction  that "the outcome should be lower levels of child poverty, a faster growing economy, continued progress on our journey to net zero, stronger public services and crucial support for households and businesses during a time of extraordinary economic pressure."
We warn here that to achieve those aims, urgent emergency measures are needed on the cost of living and public services must not be expected to make further cuts, especially when demands are increasing. A top priority in the current crisis must be that public service workers receive decent pay rises, not the well below inflation offers made so far, that are effectively significant pay cuts. This would benefit low paid workers and would help in recruitment and retention and service provision in health and social care in particular. It would also show respect for the vital work these committed employees do; work that all of society relies on and benefits from – work by staff who are central to delivering the key outcomes in these services, including in plans for recovering from Covid, tackling the treatment backlog, and in health and social care sustainability and in climate action.
In the response we point out that in health, as the Committee will know, our members have also been driven to ballot for strike action. The initial consultative ballot saw 83% rejecting the current 5% pay offer and backing industrial action. NHS workers see the hypocrisy of praise for their commitment, particularly risking lives during the pandemic, as if in a front line on a war for many, yet still no proper reward and appreciation of that. Fine words mean little when staff are expected to take pay cuts on the chin in a major financial crisis. They are not having it.
We ask the Committee to urge the Scottish Government to significantly increase its offer to avoid strikes taking place as the annual winter pressures hit the NHS, likely to be alongside a further wave of COVID 19. The staff who would be expected to deal with another COVID crisis this winter, on top of heavy workloads and staff shortages and immense resource and waiting list pressures, including for addressing the treatment backlog, deserve higher pay now.