UNISON – with Unite and GMB – submitted a joint pay claim to COSLA calling for a 'fair and decent' 
• A £3,000 flat rate increase to all spinal column points (based on a 35 hr working week).
• A minimum hourly rate of £12 per hour.
• All allowances to be automatically uprated in line with October inflation rates.
• Payment of all professional fees incurred by members in the course of their employment.
• A no-detriment reduction in the working week to 35 hours.
• Agreement of home/hybrid working guidance.
• A Job evaluation review of all roles that have changed during the pandemic.
• No less than parity with other local government bargaining groups.
• Fair funding for local government to protect jobs and services.
You can view the full pay claim here
This pay claim is for the period 1 April 2022 to March 2023.
Local Government Pay Ballot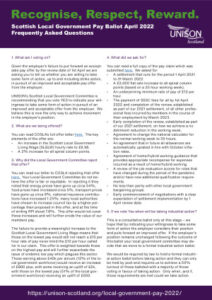 We are balloting UNISON local government members– in a consultative ballot. You will receive this ballot by email. Please see Frequently Asked Questions  for more details.
We are asking whether you are willing to take some form of action, up to and including strike action, in pursuit of an improved and acceptable pay offer from the employer – because your employer has failed to put forward an acceptable pay offer by 1st April
UNISON's Scottish Local Government Committee is recommending that you vote YES to indicate your willingness to take some form of action in pursuit of an improved and acceptable offer from the employer.  We believe this is now the only way to achieve movement in the employer's position.
If you've not received an e-mail with your voting link please check your junk/spam folders.  If you still have not received by 15th April it might be because we do not have up to date details for you. Please call 0141 342 2899 or log in to MyUnison  to check that the details we hold for you are up to date.
Recognise, Respect and Reward. Campaign for fair and decent pay rise for local government workers:
Our campaign for air and decent pay rise for council workers falls during local election period. As part of our pay campaign we are asking all council election candidates to sign up to 3 pledges:
Recognise: the crucial role local government workers play in our communities and economic recovery. Ensure no compulsory redundancies or privatisation of services.
Respect: Be an employer that treats people with dignity and respect at all times. Ensure fair work principles are applied and respect the professional judgement of local government workers.
Reward: Ensure local government workers get paid a fair wage and we eradicate the endemic low pay that exists in the sector. Ensure workers get choices in post-pandemic working arrangements and associated costs are met by the employer
All UNISON local govt branches have received a large signing board to ask all council election candidates to sign up to these three pledges, which can then be promoted on our social media channels.
Easy Print pledge boards for council election candidates:

 Local government election hustings:
More campaign resources:
These materials are in different sizes so they are suitable for different digital platforms
For website pages:
Facebook:

Twitter:
Large Banner. Please contact UNISON Scotland for full printers file:
Quote from Johanna Baxter, UNISON Scotland's head of local government,
Johanna Baxter, UNISON Scotland's head of local government, said: "Youth workers, care workers, refuse collectors, social workers, teaching assistants, community workers, street cleaners and so many more have gone above and beyond during the pandemic keeping schools open, supporting our NHS, ensuring communities are safe and providing essential services often at risk to their own health.
"After years of declining pay and cuts to local government budgets it is time for COSLA and the Scottish Government to get round the table to ensure sufficient funding is available to give our dedicated local government workers the fair and decent pay rise they deserve.
"With 55% of local government workers earning below £25k per annum, low pay remains a significant issue and this year's settlement must not only protect workers from steep increases to everyday costs, like energy and gas, but also prevent pay from falling back further and should start to reverse the many years of real-terms cuts to wages.
"Industrial action was only narrowly averted in the last pay round.  This years negotiations need to progress at pace to ensure we don't end up in the same position again this year. "