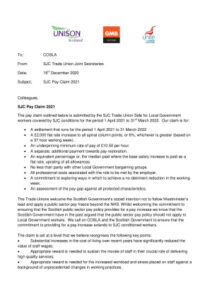 Trade Unions representing the bulk of the Local Government workforce today submitted their 2021 pay claim to COSLA.
The claim calls for:
• A one-year settlement that runs for the period 1 April 2021 to 31 March 2022
• A £2,000 flat rate increase to all spinal column points, or 6%, whichever is greater (based on a 37 hour working week).
• An underpinning minimum rate of pay of £10.50 per hour.
• A separate, additional payment towards pay restoration.
• An equivalent percentage or, the median paid where the base salary increase is paid as a flat rate, uprating of all allowances.
• No less than parity with other Local Government bargaining groups.
• All professional costs associated with the role to be met by the employer.
• A commitment to exploring ways in which to achieve a no-detriment reduction in the working week.
• An assessment of the pay gap against all protected characteristics.
Johanna Baxter, UNISON head of local government, said: "The moral and economic imperatives for providing local government workers with a substantial pay increase are overwhelming. In a country where over 230,000 children are living in poverty and we face an economic depression like no other there is no better way to lift people out of poverty and stimulate economic recovery than putting money into the pockets of low-paid workers who have already borne the brunt of a decade of austerity, it just takes political will to do so.
These workers have gone above and beyond in keeping us safe and our services going during the period of the pandemic. No longer can they be treated as the poor relations of the public sector when it comes to decent pay and reward."