Speaker after speaker bravely shared their own experiences of living with mental ill health, as conference backed a motion from the National Disabled Members' Committee, commending Cymru Wales Mental Health Champions scheme and calling on other Regions to adopt a similar initiative.
Conference went on to support a motion from Northumberland Tyne and Wear Health which built on the measures already agreed with further actions to support members and activists with mental ill health and to promote tolerance.
The personal stories demonstrated the levels of ignorance and prejudice which still exists and the stigma which many of our members' experience. UNISON will use their publications and website to encourage an interest in good mental health and will press politicians for adequate funding for mental health services.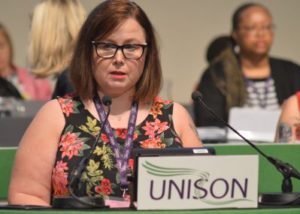 Moving the motion Kathleen Kennedy told delegates that one in four people experience mental ill health at one stage in their lives and yet mental health is still a taboo subject.
"There is still a lot of prejudice and lack of understanding around mental health, which means that many people don't feel comfortable disclosing their mental ill health.
"It is vital that anyone with mental ill health is able to get the support they need, without fear of judgement or discrimination, and that mental health is treated equally with physical health."
Kathleen added that mental ill health can be caused by or made worse by difficulties and stress experienced in the workplace. She welcomed the "fantastic work that Cymru/Wales region have been doing in recent years to create a Mental Health Champions' scheme."
"These Champions can support their colleagues experiencing mental ill health and signpost them to get the support they need," said Kathleen, adding that the feedback for this scheme has been really positive.
"We encourage all regions to consider adopting a similar scheme. If we can train Mental Health Champions in workplaces across the country, we will be able to support many of our members and their colleagues," she urged.
Scotland's Susan Kennedy, speaking for the Local Government Service Group supported the need for UNISON to provide dedicated Mental Health Champions to support our members, activists and delegates at conference.
Susan said, "This week at both Local Government and National Delegate conferences we have all witnessed the impact of government cuts. Cuts which bear relation to increased workplace stress and mental health issues."
Susan pointed out, however that there are also thousands of members living with mental ill health being supported by branch stewards, "mostly due to problems they face in the workplace due to their mental health, and very commonly the floodgates open to involve issues in their everyday life too.
"Sadly the supporter can very quickly become the sufferer of mental health. And that is why this motion is so important," said Susan.
"It addresses the need not only for more education on Mental Health, but calls for proper dedicated support for our activists."
Susan spoke of her own situation and how, as a sufferer of anxiety herself she has been able to use her experiences to positively support her members.
This was at a cost to herself at times and she described how after using all of her energy to support a member with complex mental health issues for two hours straight, she returned to my office a physical wreck and needed a combination of medication and support to get her fighting fit again.
She commended Northumberland Tyne and Wear Health branch for "leading the way in developing a strategy for a mental health first aiders with the view for UNISON to facilitate across our union and to provide the support for our members activists to become involved in their union.
"Sophie and I only met yesterday, but we both shared our hopes for the support we could look forward to if this motion is carried."
Conference Home | Conference Guide | Service Group Reports | Archive | UNISON UK reports