Join our campaign to protect your council services and those who deliver them
UNISON's campaign is calling for:
Securing the long term financial stability of local government: calling for further investment in local government to protect jobs and pay for the future.
Rewarding local government workers: for the vital services that local government workers provide to our communities.
Shaping local government for the future: looking at how roles have changed as a result of the pandemic
Consolidation of the Living Wage: Delivery of full consolidation of the living wage for all across Scotland
Watch and share our campaign video: Plug the £1bn funding gap
The Scottish government must fund local councils properly to keep communities safe and rebuild the country ​following the pandemic. We have launched a campaign, #PlugTheGap, to call on the Scottish government to find additional resources for Scotland's councils to avoid devastating harm to services that have already suffered ten years of budget cuts.
Our governments must #plugthegap in funding. Please join our campaign to protect council services.
Ask your MSP to demand that the Scottish government acts to protect essential council services
Write to your MSP using our automated email page – Sign up to support our campaign, read the letter and if you agree, we can send it for you. Or edit the letter yourself and we will send it.
Join UNISON Scotland Question Time event on 12 November
Join our live streamed event on Facebook on 12 November – A discussion panel looking at the current state of Local Government finances and UNISON Scotland's #PlugTheGap Campaign
The event will be broadcast live on Facebook Thursdsay, 12 November 2020 18:00 – 19:30 GMT
The discussion will include: Mark Ferguson, Chair of UNISON Scotland's Local Government Committee; Cllr Gail MacGregor, COSLA Resources Spokesperson. And Cllr Jim Logue, Leader North Lanarkshire Council and Johanna Baxter, UNISON Scotland Head of Local Government
Get involved in our #PlugTheGap campaign
Follow us on Facebook, Twitter and Instagram @unisonscot. Post and retweet our social media cards with #PlugTheGap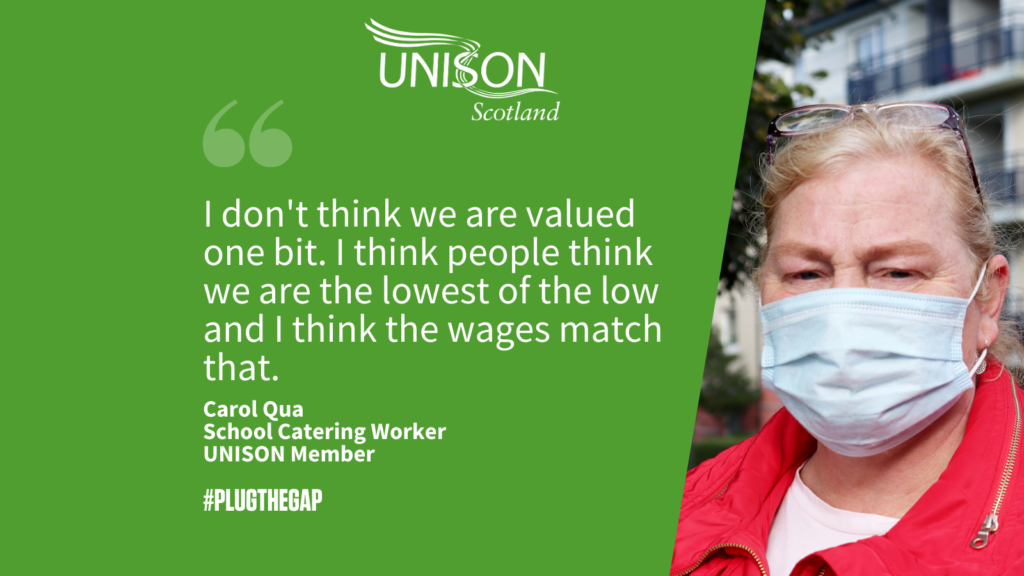 Further UNISON Scotland campaign action
UNISON Scotland wrote to Scottish Finance Secretary Kate Forbes calling for an urgent meeting to discuss the funding crises in local government, to protect jobs and essential services. 
Local government in Scotland has suffered more than a decade of cuts and is now under severe financial strain as a result of the pandemic, with increased demand for services and a substantial loss of income. You can read our letter here.
UNISON gave evidence at the Local Government and Communities committee
Johanna Baxter gave evidence to the Scottish Parliament's Local Government and Communities committee on local government finance on 30 September 2020. You can see some of the media coverage of this here: https://www.heraldscotland.com/news/18760479.scotlands-councils-facing-1bn-funding-gap-amid-unprecedented-crisis
You can view the whole session on the Scottish Parliamentary website or on the link below. The Local government finance, 1hr 26mins and Johanna speaks from 1hr 32mins : https://www.youtube.com/watch?v=ho7OWJLJiD8
UNISON's written submission to the committee is here
When launching the campaign, Johanna Baxter, UNISON head of local government, said: "Councils were already cash strapped before the coronavirus. But the extra responsibilities caused by the pandemic have stretched their resources even thinner.
"Local authorities are the key to every community, with staff delivering vital services​. Local government must have the money ​it needs, especially as demand​s on local services are likely to rise.
"Unless the Scottish government fixes the current funding shortfall – estimated to be £1bn – we risk catastrophic cuts to essential services and put our communities at risk. We need urgent investment to save the services we all rely upon."
Local government has borne the brunt of austerity over the last 10 years and the cost of the pandemic has resulted in a massive funding shortfall for Scotland's councils.
When launching the campaign, Mark Ferguson, chair of UNISON Scotland's local government committee, said: "Scotland's local authorities were in difficulty before the pandemic but they are now in crisis – the financial impact of the pandemic has been huge. Local authorities have been faced with a perfect storm of increased demands and collapsing revenues.
"Local government workers up and down the country have gone above and beyond in their response to the coronavirus pandemic, keeping essential services going in the most difficult of circumstances.
"The willingness of workers in local authorities to adapt and shift priorities and roles to ensure vital functions for their communities have been maintained has been an exemplary response by an under-resourced and undervalued workforce.
"To protect these jobs we all need to get behind the campaign to persuade both Westminster and Holyrood governments to plug the funding gap. Write to your MPs, MSPs and local councillors – contact your branch for more information on how to get involved in our campaign."
CoSLA estimates in June 2020 put the projected net cost (including additional Scottish government support to date) to councils as being £739m. These figures don't include the difficulties faced by the leisure trust ALEOs which the Culture and Leisure Trust UK estimates to be in the region of £120m. As with other areas this is far from being a final cost as the crisis is not yet over. Combined with a budget deficit of £149m at the start of the financial year these additional costs take the projected budget deficit to Scottish councils to circa £1bn.
Johanna Baxter added: "This is a crisis of unprecedented scale. A deficit of £1bn would mean a cut to social work budgets across Scotland amounting to the wages of 13,400 care assistants or 6,300 occupational therapists. Education budgets would go down by a sum which would be the wage equivalent of 30,000 support for learning workers.
"Culture and leisure budgets would go down by a sum which would pay 3,500 library assistants. Both Westminster and Holyrood governments need to act now to prevent the collapse of local services and rising unemployment.
"These services are vital to our communities and we need urgent action to ensure Scotland's councils are properly funded."