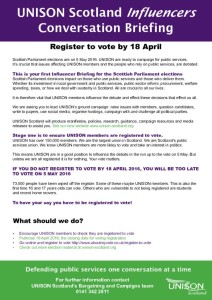 73,000 people have been wiped off the voters register. Some of these maybe UNISON members.
This will be the first time 16 and 17 years olds can vote. Others who are vulnerable to not being registered are students and recent home movers.To have your say you have to be registered to vote!
Scottish Parliament elections are on 5 May 2016. UNISON are ready to campaign for public services.
What  we can do:
Encourage UNISON members to check they are registered to vote
Publicise 18 April 2016, the closing date for voting registration
Go online and register to vote http://www.aboutmyvote.co.uk/register-to-vote
REGISTER TO VOTE BY 18 APRIL 2016 OR YOU WILL BE TOO LATE TO VOTE ON 5 MAY 2016