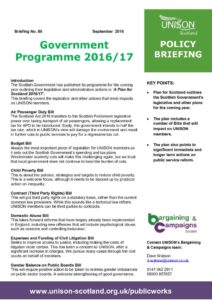 Policy Briefing No 80: The Scottish Government has published its 'Plan for Scotland 2016/17'. This plan covers their legislative and administrative actions for the coming year.
There are a number of Bills that will impact on UNISON members. In addition, there are significant actions proposed that could change the way public services are delivered in Scotland.
This briefing outlines the plan's measures that most impact on UNISON members.