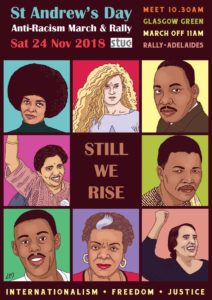 The STUC St. Andrew's Day Anti-Racism March & Rally will take place on Saturday 24th November in Glasgow organised by the STUC Black Workers Committee. – and in Aberdeen organised by Aberdeen TUC
Glasgow: Assemble: 10.30am Glasgow Green March off: 11am
Rally: 12 noon Adelaides, Bath Street
Aberdeen:  Assemble 11am, leaving from Rubislaw Terrace at 11.30am to march to Castlegate rally at 12noon. We'll then have a social with soup, sandwiches and music from 12.30 – 4pm at Parkvale FC Supporters Social Club, 16 King Street. This event is particularly special, as we approach the conclusion of the Aberdeen Trades Union Council's 150th Year.
Economic hardship continues to be blamed on migration. Hate crime has risen across the UK. We see atrocities committed in the name of governments across the world. And the UK government should hang its head in shame for its treatment of the Windrush generation and the residents of the Grenfell Tower in London.
But still, we rise…
We must resist this on the streets and show that racism, discrimination and prejudice has no place in Scotland, or anywhere else in the world, and demand equality, fairness, and justice for all.
Join us.