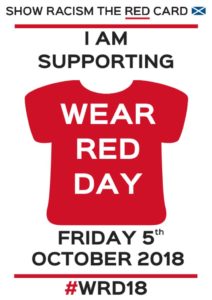 Show Racism the Red Card is holding the fourth Wear Red Day this year. UNISON Scotland has long supported the campaign and this is a great chance to get involved in spreading the message of anti-racism and stand in solidarity.
To take part, all you need to do is wear any red item of clothing, this could range from a red t shirt to red socks. We would also like to ask that each person who takes part to donate £1 to the organisation.
Please take a picture on the day and upload on social media with the hash tags #WRD18 #StandingInSolidarity #EndRacism #ShowRacismtheRedCard
In Scotland, this year's Wear Red Day will be on Friday 5 October.
Please see attached flyers with some information regarding Wear Red Day. If you would like to take part please download an action pack here or get in touch through email ryan@theredcardscotland.org and Show Racism the Red Card will send you your Wear Red Day pack.
See more details at http://www.theredcard.org/wear-red-day/