Conference overwhelmingly backed a call from the National Young Members Forum to designate 2019 as "The Year of Young Workers."
It committed to initiatives to increase the numbers of young members, with a 5% target by next year's conference and another 5% by 2020.
A Scotland amendment highlighted again that young workers are the trade unions leaders of the future so it is essential to invest in their training, learning and skills development now.
Moving the amendment, Regional delegate, Elaine Duffy that she might as well get the big cliché out of the way at the start. ….."Young people are the future.
"They are the future of our public services. They are the future of our union."
She added that it is not only right that we make an effort to recruit and train young members – it's a necessity.
"We know that what we have to say is relevant to young people. We know that that what we have to offer to young people is relevant.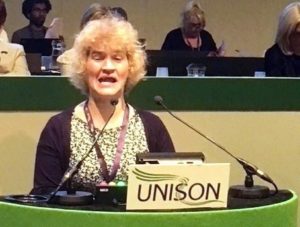 "What we have to do is put the time and effort in to making sure that young people hear what we have to say and act on it," urged Elaine.
She pointed to the fact that young people are more likely to be on zero hours contracts or other forms of insecure work.
"That isn't because they are stupid or welcome exploitation – it's because that's all that is on offer," slammed Elaine, adding that unlike older workers, they are less likely to have had other better experiences at work and so are more likely to think that 'this is just how it is'. They are less likely to be aware that there has been a long process of disempowering workers."
She called for an approach that is relevant to young workers, with messages they will see – in formats they will pay attention to and for a focus on matters that particularly impact on young people.
She commended the Scottish Young members' award winning anti-bullying campaign which led to an advice booklet called "Gonnae No Dae That", which is used as part of recruitment exercises by branches across Scotland, adding that this turned young members into activists.
"Being aware of, acknowledging and acting on the needs of young workers is not a cost – it's an investment. And one that we can and should make," urged Elaine.
This was echoed by Aberdeen's City's Brenda Massie and by Aberdeenshire's Kathleen Kennedy.
Brenda told conference that as a former young member she had seen the benefit of Trade Union membership, so welcomed the motion from the National Young Members forum to bolster the strength and sustainability of our union.
"I think it is fitting for 2019 to be designated as Year of Young Workers, particularly as in Scotland 2018 is the Year of Young People.
"It can clearly be seen by the good work ongoing in the regions, that our current young members are setting a good example in leading the way."
Kathleen told delegates that equalities is key to having a sustainable union.
"Statistics show that a disabled young person is twice as likely to be unemployed as a non-disabled young person" slammed Kathleen.
She added, "I have been employed since I was 18 and like UNISON I turn 25 years in my working life. I am so grateful to be able to say this and I count myself lucky!"
She called on UNISON to be active in promoting equalities to employers to ensure equal, fairer and productive workplaces."
"Please remember young disabled people and support this amendment," urged Kathleen.
Conference Home | Conference Guide | Service Group Reports | Archive | UNISON UK reports