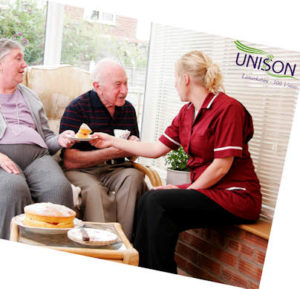 Dear Member,
UNISON Lanarkshire is running a Fair Work Survey, to look at how your employer implements the Fair Work Framework while you're at work. This is your opportunity to have your say and to help UNISON report the results of this survey back to local councils. All care workers in the 3rd sector family are encouraged to participate.
We believe that fair work is work that balances the rights and responsibilities of employers and workers and that can generate benefits for individuals, organisations and society. UNISON Lanarkshire will be asking you to complete the survey either through face to face engagement or answering questions in an online survey. All answers are kept anonymous.
Tell your colleagues. Tell your friends who work in social care sector. Get as many people involved as possible!
The survey can be found here: https://www.surveymonkey.co.uk/r/XBKMRB3 Please fill in your response to the best of your ability.
If you would like any more information, or would like to become an activist for 500 Voices, please email Chris.kennedy@unisonnorthlan.org.uk
Please also head over to our Facebook page to keep up-to-date with all activity! https://www.facebook.com/UNISON500Voices
Thank you!