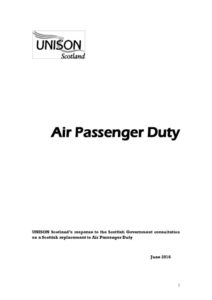 UNISON Scotland starts from the position that the Scottish Government should be defending public services and working for social justice by opposing austerity and tackling inequalities. Climate change action is essential and should support these goals. Instead, cutting Air Passenger Duty would benefit the wealthiest, while increasing aviation emissions. A lose, lose proposal for Scottish public services and for protecting our world for future generations.
APD brings an estimated £230-£300m a year to the Scottish Government. Cutting it takes that money away from essential services likes schools and hospitals. That £300m, Stop Climate Chaos Scotland has calculated, could employ 11,507 nurses, or fund a year of childcare for 54,011 children, nearly every child who will be born in Scotland this year. It could install solar panels on 60,000 homes, convert every bus in Edinburgh to full electric, or restore 57% of Scotland"s degraded peatlands, saving up to 1.4m tonnes of CO2 emissions.
If Scotland is to meet its proudly proclaimed as world leading climate change targets, a cut to APD makes no sense. The Scottish Government should think again.