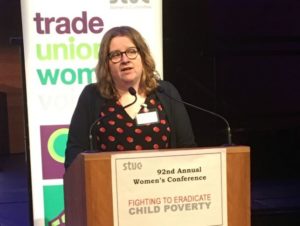 A week on from the historic decriminalisation of abortion in Northern Ireland, #stucwomen19 Women's conference backed a range of measures to defend abortion rights in this country and internationally.
Conference recognised that attacks on abortion rights have become vicious and STUC Women's Committee will work closely with Abortion Rights Group to protect women's right to choose. It will also encourage trade unions to affiliate.
An FBU motion also highlighted that a Victorian law means that it remains a crime for women to procure an abortion in Scotland, England and Wales. The Women's committee will lobby the Scottish government to repeal this outdated legislation to ensure the decriminalisation of abortion in Scotland too.
UNISON's Katrina Murray celebrated "at long last" the change of law in Northern Ireland but warned that there is still a way to go until there is local provision there and women don't need to travel.
"But given where we were, there's a lot to celebrate."
She paid tribute to women like Inez McCormack who spent many years fighting for this.
Katrina condemned the anti-abortion protests outside clinics and supported the PCS call for buffer zones which would ban anti-choice campaigners from demonstrating outside facilities where women are getting medical care.
Katrina said that this regularly happens outside a number of hospitals in Scotland. "Now you don't need me to tell you that women go to hospital for many reasons – not just accessing abortion services," said Katrina, herself a health care worker.
"Women deserve better. We deserve to be able to access not only health care but to go to work free from harassment."
STUC Women's Conference 2019 Home
Reports by UNISON Scotland Communications and Campaigns Committee from Kate Ramsden in Perth.