Health staff: The STAC secretariat have been holding daily teleconferences following the cancellation of the March 20th STAC meeting. They have produced and update of the meetings. It contains a message from the secretariat, a summary of work so far and an overview of developments since the cancelled meeting.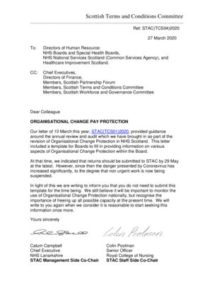 The recent call for boards to fill in a template regarding the annual review of organisational review pay protection has now been cancelled.
Overtime payments for executive and senior staff have now been approved. These must be signed off by the remuneration committee.
All updates are available on the STAC website