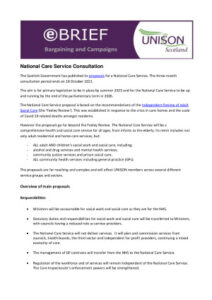 The Scottish Government has published its proposals for a National Care Service. The three-month consultation period ends on 18 October 2021.
This e-brief provides an overview of the proposals. UNISON's position on social care after the pandemic was set out in the publication Care After Covid. The e-brief summarises the key points.
The National Care Service proposal is based on the recommendations of the Independent Review of Adult Social Care (the 'Feeley Review'). This was established in response to the crisis in care homes and the scale of Covid-19 related deaths amongst residents. However the proposals go far beyond the Feeley Review. The National Care Service will be a comprehensive health and social care service for all ages, from infants to the elderly. Its remit includes not only adult residential and home care services, but also:
ALL adult AND children's social work and social care, including:
alcohol and drug services and mental health services;
community justice services and prison social care;
ALL community health services including general practice (GPs).
The proposals are far reaching and complex and will affect UNISON members across several different service groups and sectors.