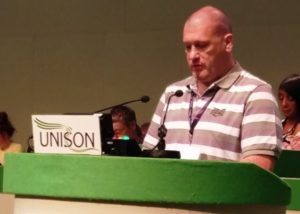 UNISON set out a strategy for the improved organisation and growing membership within the workforce of private contractors.
A priority for the union, this will see branches and Private Contractors Unit working to get recognition agreements where they can and to combat insecure work and zero hours contracts.
Moreover it will make sure that representatives working for private contractors are not only trained appropriately, but also that they are an integral part of their branch structure, and get appropriate support from branch officers and regional staff,
Craig Griffiths – a first time speaker moving Lanarkshire Health's amendment, shared his own experience, "For those of you who don't know. Lanarkshire is the PFI (Private Finance Initiative) capital of Scotland.
Two general hospitals. Both opened in 2001, when the facilities management staff all transferred to the private sector providers, Serco at Wishaw General and ISS Mediclean at Hairmyres, both organised predominantly by UNISON.
"UNISON has secured us Agenda for Change terms and conditions, but Serco runs completely differently to the NHS. Our procedures are different. How they make decisions are different. And it's all about the profit!"
He explained that as a new steward, whilst keen and eager to learn, he couldn't have done this himself. Indeed without the support of the branch officers he would have walked away. Lanarkshire Health takes an interest, ensuring inclusion in the branch committee meetings.
Senior branch officers go with him to the partnership and negotiation meetings,"They don't take over but they support, encourage and when required turn round and say 'No you're doing this.' But always with a safety net. "
"For the last four years, I've been paid to transport patients, equipment, furniture, waste, medicine, chemotherapy and dead bodies around Wishaw General Hospital and until 1st April this year, I was paid at a Band 1, employed by Serco. I now have a Band 2 because my branch did not forget about me and my colleagues and insisted that the Scottish Low Pay agreement was extended to private contractors."
Craig urged: "This is what UNISON should be doing. This is what all branches should be doing. If you have private contracts in your branch – go and look for people like me. Good looking porters with the gift of the gab. Support them. Encourage them. Send them to the Private Contractors national Seminar and the company forums. And continue to campaign for them."
"I've spent the last 18 months being pushed out of my comfort zone and have enjoyed every minute of it. I'm now a branch officer and my next challenge is to find the next me, within my company.
"We don't have enough reps, we need more. I can support them as my branch has supported me."
Conference Home | Conference Guide | Service Group Reports | Archive | UNISON UK reports