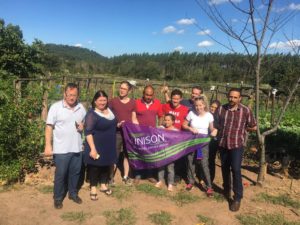 Thursday 22 June from Kaila: Another early start, with a long road trip to Descalvado to visit a settlement called 'January 2' where we met with the leadership of the settlement.
This settlement covers 800 hectares, although is only able to utilise 240 hectares of the land. There is rainforest within this area. There are 42 families living within this settlement (140 people). The settlement has been in existence for seven years.
The leaders explained the challenges they face within the community & gave us a tour of the many productive plots they are growing. 30% of the crops are dedicated to being sold to schools. However, this scene faces difficulties as often they only know one week prior to the order, what is needed.
Although it should be a month. Much of their land is covered by old eucalyptus tree stumps which prevents them from developing the land in a productive way. The land is very acidic from its previous use. There are potentially 1000 agricultural workers within the area who would benefit from union support, however the lack of resources makes this a near impossible task to facilitate. The women's Association of Descalvado are particularly active within this settlement.
The plots they are growing are extremely productive and a real credit to the community.
Just to add to the challenges this community face, they have to support from the state & no public transport. Their community is extremely isolated & far from the nearest town, which provides logistical problems of its own