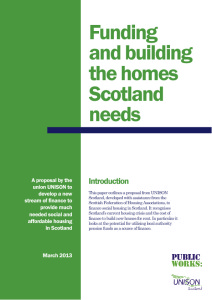 Funding And Building The Homes Scotland Needs – Mar 2013
A proposal by the union UNISON to develop a new stream of finance to provide much needed social and affordable housing in Scotland.
Introduction
This paper outlines a proposal from UNISON
Scotland, developed with assistance from the Scottish Federation of Housing Associations, to finance social housing in Scotland. It recognises Scotland's current housing crisis and the cost of finance to build new houses for rent. In particular it looks at the potential for utilising local authority pension funds as a source of finance.