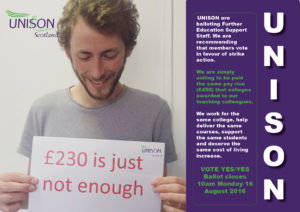 The Further Education ballot is now open to UNISON support staff in Scotland's colleges. UNISON is recommending that members vote Yes/Yes in favour of strike action. The ballot closes 10am, Monday, 16 August 2016
UNISON members are simply asking to be paid the same pay rise (£450) that colleges awarded to our teaching colleagues. We work for the same college, help deliver the same courses, support the same students and deserve the same cost of living increase. We should be paid the same fair pay.
Please use 'postcards' in your on-going campaigns particularly on Twitter and Facebook.