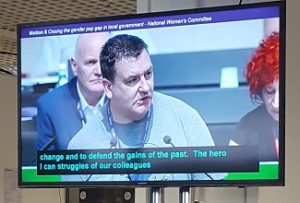 Almost 50 years after the 1970 Equal Pay Act Local Government once again condemned the increasing gap between men and women's pay.
Delegates welcomed UNISON's involvement in the Women and Local Government Commission and backed action to address the widening pay gap. UNISON will continue to campaign vigorously to close the gap, by pressing employers to take positive action and issuing guidance for branches.
Responding to the call from the mover of the National Women's committee motion for men to get behind this campaign, Dundee City's Jim McFarlane supported, telling delegates that despite four decades of equal pay legislation, the average woman still earns 36% less than their male counterpart.
Studies show that women are also less likely to get promotion.
"This clearly shows that legal rights mean nothing unless workers organise to force change or defend the gains of the past," warned Jim.
He also reminded us that cuts in Local councils have disproportionately affected women as workers
"There has been a narrowing of the gender pay gap but this narrowing is not the result of women's pay surging but because men's pay has been falling. We don't need another race to the bottom," he slammed.
Jim said that it is important to smash the glass ceiling in local authorities, but just as important to remove the "sticky floor" that holds so many of our women members back from promoted posts.
He called for continued reviews of our job evaluation schemes "that have still failed to deliver in jobs like care workers and catering."
Jim also warned that we need to continually challenge backward attitudes in our movement.
He shocked delegates when he described a situation where his council tried to cut the enhanced maternity leave scheme. Jim told us that during negotiations a full time official of another union asked why UNISON was getting so angry about the planned cuts to enhanced maternity leave and threatening to ballot for action as, in his words, "these women haven't even thought about having children yet."