UK Health Conference backs Scotland on pay, training, bursaries and more…
Scottish delegates spoke out on a host of issues at the UNISON UK Health Conference in Brighton.
Speakers included UNISON Scotland Convenor Lilian Macer, Health Committee Vice Chair Sandra-Dee Mason, Alan Manley from Tayside, Cathie Miller from Glasgow Clyde CVS and NHS Glasgow and Clyde Health Visitor Una Provan.
The union backed Scottish motions on better training for admin and clerical workers, safer staffing levels, better training for staff on dementia and domestic violence and salaries for student nurses.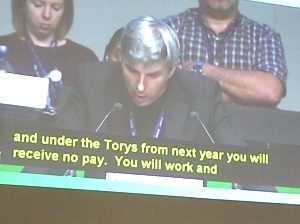 Gordon Mckay put some passion into the pay debate and a composite included Scotland's motion to use the best deals won in any of the nations as a benchmark for all.
The Conference demanded training for undervalued ancillary, admin and clerical workers who are being denied access to training.
Lilian Macer said:  "Administrative staff are a hugely undervalued staff group."  She praised the Scottish educational pathways project begun in July 2015, which shows the qualification members of staff can undertake.
And as the Conference turned to cuts, Alan Manley said that in Tayside they've been set a target to cut £1m a week in 2016/17, on top of existing 5% cuts, or about £30m a year.
A Scotland motion called on the union to be more proactive in organising in new NHS bodies and private contractors, campaigning to extend NHS pensions to workers employed in those organisations.
Scotland also condemned Tory government plans to end bursaries for nursing and midwifery courses.
While welcoming the Scottish Government decision  to maintain free tuition for Scottish students in Scottish universities, it noted with caution a planned review into funding packages available to nursing and midwifery students.
Scotland also won support for an important motion on dementia awareness, moved by Sandra-Dee Masson.