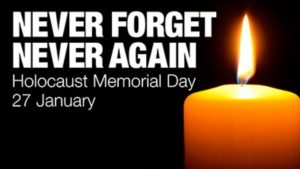 Holocaust Memorial Day takes place every year on 27 January.
This year is particularly significant as it marks 75 years since the liberation of Auschwitz-Birkenau and Belsen.
The theme is 'Stand Together', a powerful expression of solidarity that is also at heart of the trade union movement's response to fascism, antisemitism and the politics of hate.
HMD2020 is also marking the 25th anniversary of the genocide in Bosnia.
On 27 January UNISON will hold an event led by general secretary Dave Prentis together with HOPE not hate. A minute's silence will be observed at 12 noon.
UNISON branches are encouraged to participate and hold a minute's silence as well.
It is an opportunity to reflect on the lessons of history and to take action today.  We remember the precious lives lost and the deep grief felt by those who survived. We honour their memory by challenging anti-Semitism and hate, by remembering the victims of all genocides, and by working to ensure 'Never Again'.
Stand together with us as we pledge to continue our work to challenge intolerance and prejudice wherever it is found, and affirm the indelible power of solidarity, love and compassion.
UNISON Renfrewshire branch will be hosting an evening of remembrance and also to commemorate Jane Haining, the only Scottish woman to have died at Auschwitz. The event will also reflect on recent genocides in Cambodia, Rwanda, Bosnia and Darfur.
Mark Ferguson, UNISON Renfrewshire branch secretary, said: "It is important that we remember the atrocities committed during the Holocaust. UNISON Renfrewshire is leading a study tour to Auchschwitz as part of the 75th Anniversary of the liberation of the camps and remembering Jane Haining, who worked for over 10 years in Paisley's Ferguslie Thread Mill. Delegates from across Scotland will be taking part."
The event will take place on: Monday, 27 January 2020, from 5.30pm. UNISON Office, Sir James Clarke Building, Abbeymill Business Centre, Paisley PA1 1TJ