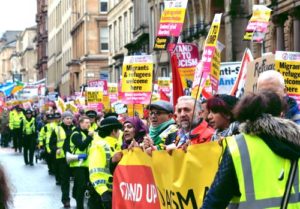 Stand Up to Racism Scotland is calling for days of action to keep racism out of the council and general elections. We're encouraging activists to mass leaflet transport hubs, colleges, workplaces and public areas
The first two dates are:
• May Day events over the May bank holiday weekend
• Wednesday 10 May
The snap election called by Theresa May for 8th June raises the serious prospect of a further rise in racism. Hate crimes soared by 41% following last year's EU Referendum, and much of the same toxic scapegoating which fuelled this rise now threatens to dominate the General Election.
Since the financial crisis, migrants and refugees have repeatedly been blamed for the effects of economic stagnation and austerity. In fact, migrants play an indispensable role in society and the economy, staffing crucial public services and contributing through the tax system.
In the wake of Donald Trump's Muslim Ban and a shocking rise in anti-Muslim hate crime fuelled by the far-right and sections of the press, Islamophobia must also be challenged at every point in this campaign.
There is no place for racism and scapegoating in our political discourse. We call on all political leaders, media outlets, candidates and campaigns to refrain from the scapegoating of migrants and refugees and take responsibility for halting the rise of racism, Islamophobia and anti-Semitism.
Affiliate to Stand up to Racism Scotland
smaller community/ smaller trade union bodies/ organisations £10-£20
medium sized community/ trade union bodies/ organisations £50-£100
larger sized community/ trade union bodies/ organisations £100-£200
Send affiliation fees and donations to Stand up to Racism Scotland c/o Glasgow City UNISON, 84 Bell Street, Glasgow, G1 ILQ
==================================
Website: http://www.standuptoracism.org.uk
==================================