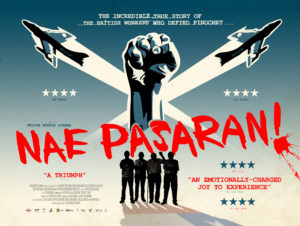 A film of the true story of Scottish factory workers who defied the Chilean dictatorship 40 years ago is coming to a showing near you soon.
Backed by UNISON's Campaign Fund, there will be special screenings in big cities across the UK during the week of the 45th anniversary of the Chilean coup in September.
From 11 September onwards, there are one-off screenings in Glasgow, Edinburgh, Dundee, Aberdeen, London, Bristol, Brighton, Cardiff, Sheffield, Liverpool, Manchester and Newcastle followed by Q&As. The Chilean coup commemorations always draw crowds and press and those screenings should benefit from that. They are good opportunities for panel discussions post-screenings.
The general release from 2 November onwards to independent cinemas includes Edinburgh, Glasgow, Dundee, Inverness, Aberdeen, Shetland, Bo'Ness, Dumfries, Stirling, Aberfeldy, Oban, Tiree, Skye, North Uist, Stornoway, Kirkwall.
With unprecedented access and research, NAE PASARAN reveals for the first time the incredible impact made by Scottish factory workers 40 years ago against one of the most repressive dictatorships of the 20th century.
This resulted in 2015 in John Keenan, Robert Somerville and Bob Fulton being made Commanders of the Republic of Chile, the highest honour given to foreigners  by Chile.
40 years after their defiant stand in protest against Pinochet's Air Force in Chile, Scottish pensioners discover the dramatic consequences of their solidarity.
1974, Scotland. Bob Fulton, a Rolls-Royce engine inspector, returns to his section, upset and anxious. He's just told his colleagues that a Chilean Air Force jet engine has arrived in the factory for maintenance and he's refusing to let it go through, in protest against the recent military coup of General Pinochet.
He's seen the images of people packed into football stadiums and the Chilean Air Force jets bombing Santiago, and now one of the engines from those very same planes is right there, waiting for inspection.
He can see his supervisors approaching, he knows he's about to be fired, yet he feels a responsibility…