Take One Action, the UK's leading global change film festival, returns to Edinburgh, Glasgow, Aberdeen and Inverness this autumn, bringing some of the most acclaimed films of the year about the big issues of our time, from social inequality and women's empowerment to workers' rights and climate change.
Celebrating the people and the movies that are changing the world, Take One Action will host over fifty screenings across the four cities.
The event, which is supported by UNISON Scotland, enables thousands of audience members each year to experience cinema with a difference, to engage actively with campaigners, artists, filmmakers, journalists, politicians and each other – and to take action themselves.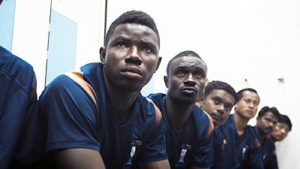 Among the varied titles on offer, many of which will be presented as UK or Scottish premieres, some of this year's highlights include films such as Workers Cup, which sheds a light on the lives and hopes of construction workers building Qatar's World Cup infrastructure, the UK premieres of Burning Out, (trailer) a timely doc highlighting the strain under which health care staff have to operate and To End a War, which offers fascinating insight into the Colombian peace process, as well as Disturbing the Peace, (trailer) a humbling and hopeful account of ex-PLO fighters joining ex-IDF soldiers to work towards peace in Israel and Palestine.
Every screening at the festival is accompanied by discussions, with audience members encouraged to get involved in the issues raised by the films.
Take One Action executive director, Tamara Van Strijthem, thanked UNISON Scotland for their continued support: "This is a relationship we value immensely. Our focus as a Festival is strongly attuned to the campaigns UNISON supports and we look forward to welcoming many UNISON  members to our events."
The festivals will take place 13-24 Sept in Edinburgh and Glasgow (various venues), 17-19 Nov in Aberdeen (Belmont Filmhouse) and 24-26 Nov in Inverness (Eden Court).
Full programme and booking details available from www.takeoneaction.org.uk from 11 August