Gordon McKay, UNISON president, has returned from a 5 day trip to Malawi as part of his appeal to improve maternal health in the country.
He travelled with Wilma Brown, Danny Phillips and Mark Beacon – all of UNISON – to visit Manchijiri Health Centre which serves a small, rural, community in south Malawi about 30 km from the old capital city of Zomba.
Gordon chose Manchijiri health centre for his president's charity. His visit with colleagues was to meet staff to discuss their needs and learn more about their work, and to understand the needs of the community and how we can support them.
UNISON branches across the UK have been raising money to support the work of the clinic. The money raised will make a significant difference to their work. We are considering the option of building or expanding a maternity ward.
Gordon said: "I have mixed feelings about my visit to Malawi. I have had a hugely rewarding visit, I learned so much. I found people to be open and warm and it is a truly beautiful country. However, of course I knew it is poor country, but the levels of poverty were even more than I expected.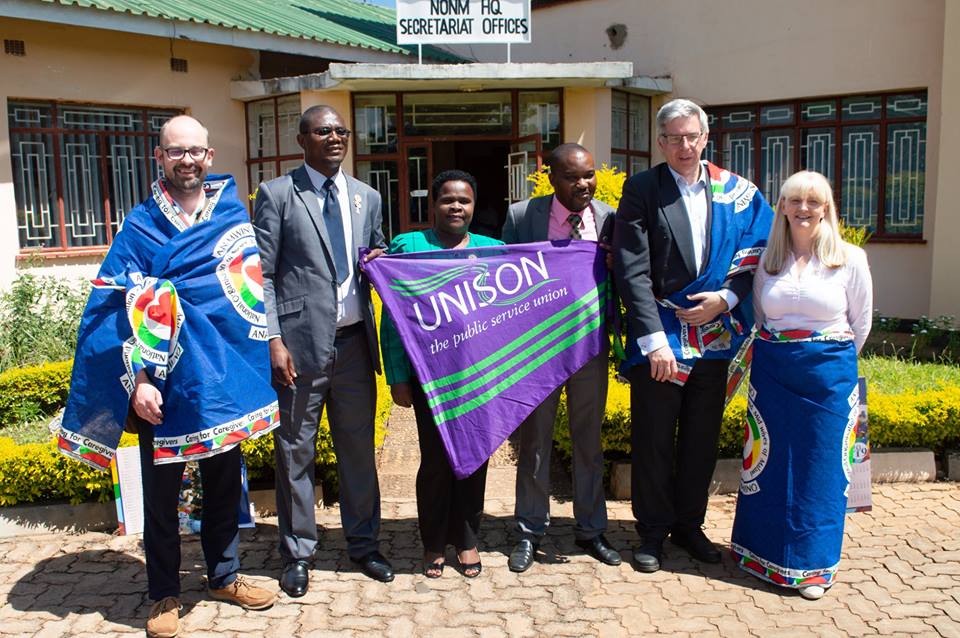 "When I found out about the great work that is being done at the Manchinjiri Health Centre in Malawi I knew I wanted to do something to support mothers and babies in Malawi.
"We had set out a range of options of how we could support staff, so this trip was about discussing some of the options and what we could realistically achieve. I met staff at Manchinjiri Health Clinic who wanted me to pass on their thanks to UNISON members across the UK.
"I'm extremely grateful for the way in which UNISON members have supported the president's appeal. And the donations continue to come in. I am genuinely moved, especially now I have seen the difference it will make to very poor people who live in the 4th poorest nation on earth."
The Manchinjiri Health Centre in Malawi is a government funded clinic. It has a two-bed labour ward where staff deliver babies, carry out pre and post-natal checks and take measures to prevent the transmission of HIV. They also have a general out patient cinic, which treats all kids of illnesses, including Malaria, and offers tests and basic treatments for TB and HIV.
The UNISON delegation also met with our Malawi sister trade unions: Water Employees Trade Union of Malawi (WETUM), National Organisation of Nurses and Midwives (NONM), and Trade Union Congress of Malawi (TUCM).
UNISON has worked with these trade unions for a long time and it was an opportunity to meet them again, here of their organising work and strengthen our links.