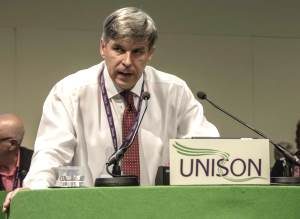 #uNDC16 Through tax avoidance and tax evasion the UK Treasury receives around 100 Billion pounds a year less than it expects.
Conference is dismayed that nearly six years on from his promise to "fix" the economy and recently following the autumn statement – in which he said that the governments job is no longer to "rescue Britain", but to "rebuild Britain" – George Osborne has again returned to the economic politics of austerity and slashed spending on public services.
The last five years have seen massive cuts in public spending, huge public sector redundancies and pay restraints across the public services on an unprecedented scale. Cuts were made on the backs of the poor and disadvantaged, whilst big businesses and wealthy individuals continue to get huge tax cuts.
In a barnstorming performance, Gordon McKay Scotland NEC member told delegates: "One of those who suffered intrusion last week was Sir Philip Green a man who came across showing all the virtues of honesty, integrity and humility, and not in any way like a greedy scheming weasel.
"By transferring the Arcadia group into his wife's name, who just happens to be domiciled in the tax haven of Monaco, the Greens personally avoided paying 600 million pounds in tax".
Gordon continued: "As a result 11,000 people and their families face life on the dole and there is a 600 million pound black hole in their pension fund".
Increasing the wages of the lowest paid members of society and implementing a progressive taxation system, based on the principle that the more you earn the more you contribute, will provide a fairer balance for funding the public services that are accessed by everyone regardless of their income.
Gordon told Conference: "A fairer tax system, where those who have benefitted the most, and can afford the most, is the sign of a civilised country at ease with itself.
"It pays for health care when we need it, it pays to teach our children, and it pays to look after the vulnerable when they need a helping and protective hand."
Gordon added: "One million public sector jobs have gone since the Tories came to power in 2010. Lifeline social services destroyed and the NHS brought to its knees in a race to privatisation".
Conference believes that investment in public services must be seen as a cornerstone of a fair and just society. This can be funded by a permanent bankers' bonus tax which could have raised £2billion in 2015 alone, reversing the Conservative cuts to Corporation tax and the reintroduction of a 50% rate of income tax for high earners.
Conference resolved to work with the trade union councils and Irish Congress of Trade Unions and campaign groups to establish a model for a fairer and more stable system of taxation, and to commission research for funding models for local government, ensuring proper funding but not at the expense of individual areas, regions or nations.
Gordon said: "UNISON wants to work with a Labour Party and Labour Government, led by Jeremy Corbyn to end austerity by bringing in a Financial Transaction Tax of just 0.05% on international bankers, not to cut public services by giving them money in compensation".
Gordon left his last words for Philip Green: "Philip you are a greedy, scheming weasel and we want our money back for our public services".
By Watty Gaffney
Conference Home