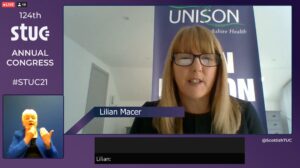 The Covid pandemic has highlighted the fundamental value of social care and the workers who provide it and Congress welcomed moves in Scotland towards an independent care service. Such is the importance of social care that the General Council issued an overarching statement prioritising the issue for the forthcoming Scottish election campaign.
It states that social care users and workers have been let down by successive Scottish Governments and condemns the fact that the majority of residential care in Scotland is provided by for profit enterprises, often owned by private equity firms whose ultimate ownership lies in tax havens.
"Scotland can neither afford nor tolerate the social care investment lost to the opaque and complex corporate structures of many private providers."
"The horrendous loss of lives we saw in our care homes across Scotland, the terrible working condition faced by our members, is surely unacceptable."
The statement incorporates much of UNISON Scotland's motion calling for the Scottish Government to urgently institute sectoral collective bargaining in the care service and to shift social care away from for profit care.
Speaking in support, UNISON Scotland's convener, Lilian Macer said: "COVID 19 has shone a light on Scotland's broken social care system and throughout this pandemic our members, predominantly low paid women, working in the care system have put themselves in harm's way to protect and care for the elderly."
She told Congress that these workers faced traumatic circumstances daily and it was only through the trade unions fighting for personal protective equipment and full sick pay, that the state introduced the Sustainability Fund.
"Even through a public health emergency private profit came before workers' rights and public safety:" slammed Lilian.
She highlighted UNISON Scotland's Fair Work in Care Strategy that puts people first, both in terms of service users and the workers who deliver these services. "As our motion says, 'delivering a care system that cares!'"
She condemned the mixed market economy of care in Scotland where over 1,000 providers offer a myriad of terms and conditions within the sector. This places workers and service users secondary to money, leaving the staff who deliver these services with little power, choice or control in their work environment.
"Ultimately, the commissioning process results in poor employment practices that are not consistent with the fair work agenda.
"As the General Council statement highlights, we believe that no political issue in Scotland is more important than root and branch reform of our Social Care system," said Lilian.
"We need a National Care Service that values the social care workforce and that puts people before profit. We need to implement at pace the Fair Work Convention's Social Care Report, a report that I have the privilege of co-chairing on behalf of the Fair Work Convention and the STUC General Council.
"The horrendous loss of lives we saw in our care homes across Scotland, the terrible working condition faced by our members, is surely unacceptable.
"That is why we need to continue our fight for a National Care Service that values the workforce,  that sees an increase in investment and the removal of the market based profit motive.
"Let's collectively ensure in Scotland we deliver a National Care Service that cares."
Click here for more information on the STUC website.