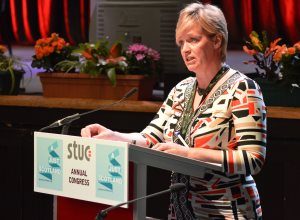 #STUC16 No worker should accept violence as part of their job. Whether they work in schools, colleges or other public and public facing services, staff should be able to work without fear of threat, abuse or intimidation.
That was the clear message from delegates to the STUC as they backed a NASUWT call for proper resources from the Scottish Government to tackle the problem.
Supporting, UNISON's Hazel Marshall told Congress that workers are still not reporting violent incidents as often as they should. Despite this, a UNISON survey has shown that recorded incidents have risen from 20,000 in 2006 to over 38,000 in 2015.
Hazel told delegates that one of her tasks is to process violent incident reports for her council.
"Unfortunately some areas are still not reporting violent incidents as often as they should, and in some cases, workers are told they don't need to report incidents because it's just part of the job," said Hazel.
However she has noted a significant rise in the reporting of violent incidents within Education, especially classroom and pupil support assistants.
She pointed out that UNISON's survey has found that this group of employees felt that they were not given the same standard of training as teachers, and often they were the ones having to deal with the pupils that teachers had refused to teach.
"Members told the survey that they have endured threatening behaviour as well as being bitten, spat at, nipped, punched, kicked and verbally abused, leaving them fearful, undervalued and stressed.
"One Public Sector worker summed it up as being "really upset and in tears most nights after work".
"This is unacceptable," slammed Hazel.
She called on employers to follow guidelines, like the ones set out in The Centre for Healthy Working Lives, 'Managing Occupational Violence in the Workplace'.
"We need to get the message across that NO employee should accept violence as part of their job. They have a right to carry out their duties without the fear of being attacked. And employers have a duty of care to provide a safe working environment."