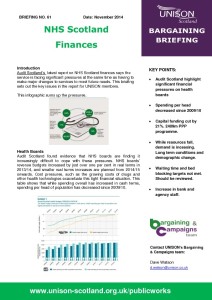 KEY POINTS:
Audit Scotland highlight significant financial pressures on health boards
Spending per head decreased since 2009/10
Capital funding cut by 21%. £409m PPP programme.
While resources fall, demand is increasing. Long term conditions and demographic change.
Waiting time and bed blocking targets not met. Should be reviewed.
Increase in bank and agency staff.
https://unison-scotland.org/wp-content/uploads/b061_BargainingBrief_NHSFinances_Nov2014.pdf