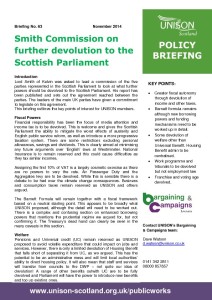 KEY POINTS:
Greater fiscal autonomy through devolution of income and other taxes.
Barnett formula remains although new borrowing powers and funding mechanisms need to be worked up in detail.
Some devolution of welfare other than Universal Benefit. Housing Benefit admin to be centralised.
Work programme and tribunals to be devolved but not employment law
Franchise and voting age devolved.
https://unison-scotland.org/wp-content/uploads/b063_PolicyBrief_SmithCommissiononDevolution_Nov2014.pdf